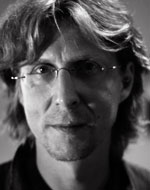 Andrey von Schlippe

Set- and Costume Designer
Theatre Director

Studied at the Academy of Fine Arts, in Munich, Costume and Stage Design by Prof.
Grübler. M.A. in 1990.
Parallel to his studies engagements as Assistant Director and interpreter to Jury Lubimov in various opera-houses in Europe (Nationaltheater München, Staatstheater Stuttgart, Coventgarden, Opernhaus Zürich a.o.).
From 1991 - Freelance Set- and Costume Designer in various theatres in Europe. Productions include: "The Raw Youth", based on a novel by F.Dostoevsky, directed by Y.Lyubimov, at the Finnish Nationaltheater in Helsinki; "Comedians", a collage of four A.Ostrovsky plays, at the Taganka Theater in Moscow; "Dr.Zhivago", based on the novel by B.Pasternak, for the Wiener Festwochen, directed by Y.Lyubimov, Music by Alfred Schnittke; and "Zaide", directed by M.Heiks, at the Staatstheater Braunschweig.
In 2001 directed the musical "Sagan om Ringen", based on the novel "The Lord of the Rings", by J.R.R.Tolkien, at the Svenska Teatern in Helsinki.
Latest works include: "Traumspiele", based on the play by J.A.Strindberg, at the Theater Luzern, directed by A.Zholdag; "Madame Butterfly", by G.Puccini, directed by M.Berglöw, at the Bydgosz Opera, in Bydgoszcz (Poland); "Woman in Black", at the Svenska Teatern in Helsinki; "Il Trovatore", by G.Verdi, directed by Marianne Berglöw, at the Bolshoy Theater in Minsk.
Since 1997: Technical director and Setdesigner at the "Tollwood Festival", Munich.